Aaron Beeken
Aaron Beeken Guitar Tuition
Teaching Acoustic Guitar, Bass, Electric Guitar and Music Theory in Peterborough, Cambridgshire
---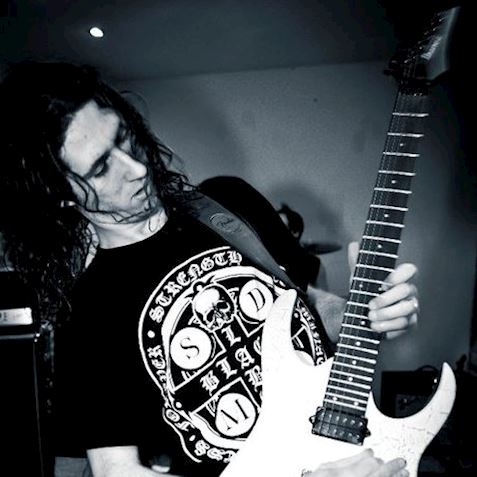 Aaron, has been teaching the Rockschool syllabus since 2010 and currently teaches all grades for Acoustic Guitar, Bass, Electric Guitar and Music Theory.
Instruments Taught
Acoustic Guitar
Bass
Electric Guitar
Music Theory
Taught Other Language
Certifications
Aaron says they were DBS (Disclosure and Barring Service) checked on 26 January 2021
NB: RSL has not verified the DBS check.
Aaron says they have public liability insurance
Qualifications
Post Graduate Certificate in Education (PGCE) Music (2012)
BA Degree in Contemporary Popular Music (Performance) (2010)
Rockschool Grade 8 Distinction in Guitar (2008)
Music A Level Grade A (2008)
---
Aaron's Fees
Fees by duration in minutes.
| Area | Duration | Fee (Pound Sterling) |
| --- | --- | --- |
| Graded Music Exam | 30 min | £18.00 |
| Graded Music Exam | 45 min | £23.00 |
| Graded Music Exam | 60 min | £30.00 |

Yes, Remote
Fees by qualification level.
| Area | Qualification Level | Fee (Pound Sterling) |
| --- | --- | --- |
| Graded Music Exam | Entry Level 3 | £30.00 |
| Graded Music Exam | Level 1 | £30.00 |
| Graded Music Exam | Level 2 | £30.00 |
| Graded Music Exam | Level 3 | £30.00 |
---
Aaron's Contact Details
Aaron has listed their teaching address as a home address.
Aaron Beeken's lessons were always one to look forward to as they were practical, insightful, and entertaining aspects, which are complimentary of his down to earth personality. Although he only taught me for a year, the impact he had on my education and career choices has been immense, so much so that I decided to follow his footsteps to study at ACM, the university he graduated from.
Abi was very shy and found social interaction difficult. Aaron Beeken was very patient and demonstrated his highly developed communication skills, building an empathetic teacher, pupil relationship with Abi. Over the years Abi developed both in her guitar playing skills and her confidence.
Additional Information About Aaron
In addition to providing people of all ages and abilities with guitar tuition, I am a also personal counsellor and psychotherapist accredited with The National Counselling Society.
Things to Check Before Choosing
Do they seem reliable?
Are their teaching fees expensive?
What qualifications do they have?
Does their social media and web address match their profile information?
Can they prove their DBS check?