Anuj Placid Lewis
Macky's Music Classes
Teaching Acoustic Guitar, Bass, Electric Guitar, Keys, Music Theory, Piano, Ukulele and Vocals in Udupi, Karnataka
---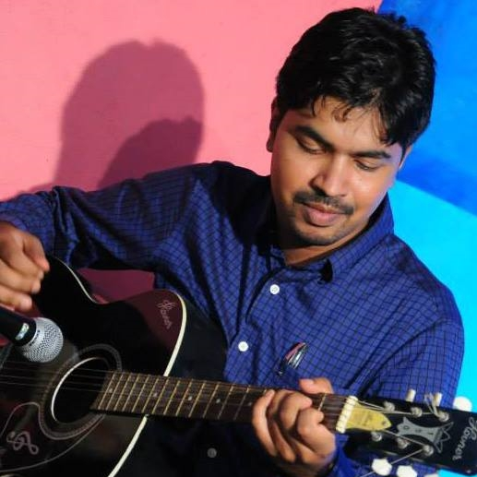 Anuj Placid, has been teaching the Rockschool syllabus since 2019 and currently teaches all grades for Acoustic Guitar, Bass, Electric Guitar, Keys, Music Theory, Piano, Ukulele and Vocals.
Instruments Taught
Acoustic Guitar
Bass
Electric Guitar
Keys
Music Theory
Piano
Ukulele
Vocals
Certifications
Anuj Placid has not been DBS (Disclosure and Barring Service) checked
Anuj Placid does not have public liability insurance
Qualifications
Certificate in History of Rock from The University of Rochester (2019)
Certificate in Fundamentals of Music Theory from The University of Edinburgh (2018)
---
Anuj Placid's Fees
Fees by duration in minutes.
| Duration | Fee (Indian Rupee) |
| --- | --- |
| 60 min | Rs 500.00 |
Fees by qualification level.
| Qualification Level | Fee (Indian Rupee) |
| --- | --- |
| Entry Level 3 | Rs 800.00 |
| Level 1 | Rs 900.00 |
| Level 2 | Rs 1,000.00 |
| Level 3 | Rs 1,100.00 |
---
Anuj Placid's Contact Details
Anuj Placid has listed their teaching address as a school address.
It's a blessing to have a musical instrument learning classes in Bramhavar for kids in and around the place. Anuj Sir and his friends are really good, polite and courteous teachers . Kids really enjoy learning from them.
Best place to learn guitar, ukulele, keyboard, vocal, music theory and Vocals. Any one can join, all age group can learn the music here.
Additional Information About Anuj Placid
Nick named as Macky. Musician/Music Teacher by profession. Started learning music in the year 1999. Teaching music since year 2007. Teaches in various schools and institutions in and around Udupi. Founder of Macky's Music Classes and Band One Way. Teaches Guitar (Acoustic, Electric and Bass), Ukulele, Keyboard, Vocals & Music Theory.
Things to Check Before Choosing
Do they seem reliable?
Are their teaching fees expensive?
What qualifications do they have?
Does their social media and web address match their profile information?