Ernesto Martín López
DEBAJOELECTRICO (ABOUTBASS)
Teaching Bass, Electric Guitar, Music Production and Music Theory in Boadilla del Monte, Spain Madrid
---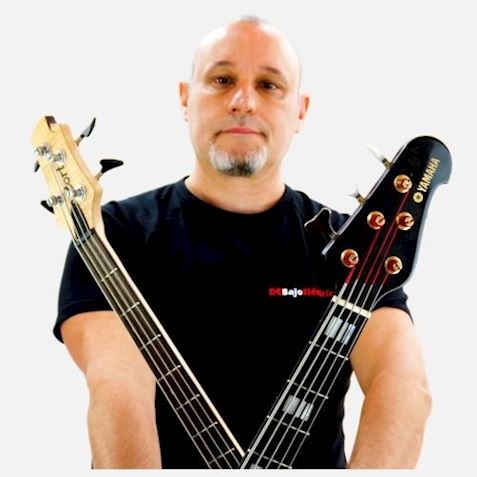 Ernesto, has been teaching the Rockschool syllabus since 2011 and currently teaches all grades for Bass, Electric Guitar, Music Production and Music Theory.
Instruments Taught
Bass
Electric Guitar
Music Production
Music Theory
Taught Other Language
Certifications
Ernesto has not been DBS (Disclosure and Barring Service) checked
Ernesto does not have public liability insurance
Qualifications
jazz Harmony II excelent at CSMN in Spain (2014)
jazz Harmony I excelent at CSMN in Spain (2013)
Electric bass in Jazz performance at CSMN in Spain (2013)
---
Ernesto's Fees
Fees by duration in minutes.
| Area | Duration | Fee (Euro) |
| --- | --- | --- |
| Graded Music Exam | 30 min | €20.00 |
| Graded Music Exam | 45 min | €30.00 |
| Graded Music Exam | 60 min | €40.00 |

Yes, Remote
---
Ernesto's Contact Details
Ernesto has listed their teaching address as a school address.
Llevo varios años con Ernesto aprendiendo y he mejorado muy rápidamente. Las clases de bajo se hacen muy cortas y gracias a la experiencia de Ernesto se consigue muy buen nivel tanto en la técnica como en el ritmo.
Me encantan las clases de Bajo con Ernesto porque las explicaciones son muy claras y las clases son muy amenas. Él sabe como hacer lo complicado fácil y en poco tiempo he progresado mucho.
Additional Information About Ernesto
My training as a bass teacher has been varied but very extensive. I started taking lessons with a teacher who was a guitarist and he destroyed me, because he taught me wrong the basic technique of the bass and years later I had to rectify it, it cost me a lot, but I overcame it.

Maybe that's why I put so much emphasis on technique for beginners, if you've seen my YouTube videos, you'll notice that I explain technique in the most detailed way possible. It is important to start from scratch right.

It was a second teacher I had, Alex Garcia, who was a double bass player and bassist, who made me see the deficiencies I had in technique. I spent two years taking lessons with him and then I continued my training on my own, in terms of technique.

At the same time, I was playing in different bands of different styles, I started with rock and punk and then I got into funk bands, reggae, Latin music, blues, rumbas and flamenco.



With all this, I was enriching myself playing the different styles and genres, I learned the Slap technique by buying methods and watching videos of Funky bass players.
I learned to read with the bass, rhythm and notes, and then I started with harmony...but I was lost...I didn't understand it.

I joined a dance orchestra and worked a lot playing in different towns in Spain, nowadays regetón is popular but at that time we played a lot of rock and everything live.

Then, I met what I consider my first teacher, Felix Santos, a Jazz Guitarist who was trained at Berklee College of Music. From him I learned the harmony of Berklee and also things from his own school, Ateneo Jazz Madrid, since he has been a teacher of teachers.

After that, harmony made me fly and I started with music composition, apart from the bass, I also wanted to play other instruments and experiment with music production.

I set up my own musical project, Flores en el Ártico, where I produced and composed all the songs of our first CD and the successive ones.
Things to Check Before Choosing
Do they seem reliable?
Are their teaching fees expensive?
What qualifications do they have?
Does their social media and web address match their profile information?
Can they prove their DBS check?