Kasey Peters
Teaching Drums in Belfast
---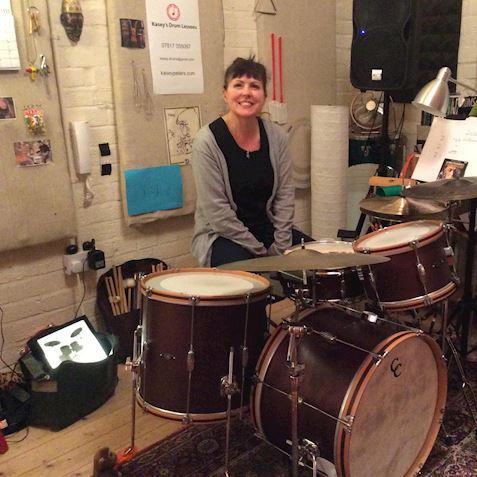 Kasey, has been teaching the Rockschool syllabus since 2001 and currently teaches all grades for Drums.
Instruments Taught
Taught Other Language
Certifications
Kasey says they were DBS (Disclosure and Barring Service) checked on 8 August 2019
NB: RSL has not verified the DBS check.
Kasey says they have public liability insurance
Qualifications
RSL Drums Grade 8, Distinction (2011)
BA Comparative Literature, Fordham University, New York, Departmental Honors (1997)
---
Kasey's Fees
Fees by duration in minutes.
| Area | Duration | Fee (Pound Sterling) |
| --- | --- | --- |
| Graded Music Exam | 30 min | £16.00 |

Face to Face
---
Kasey's Contact Details
Kasey has listed their teaching address as a business address.
Kasey's Drum Lessons are awesome!
I've wanted to learn the drums since I was 8, but it took me until I was over 40 to actually pick up a drumstick and go for it! I was worried a drum teacher would think I was having a mid life crisis, so I was very thankful to come across Kasey Peters who accepted and encouraged me right from the start. There are good drummers and good drum teachers: Kasey is both. She has thoroughly prepared me for graded exams and we've also had a lot of fun playing along to different styles of music. We always have a laugh and no matter how hard my day at work has been, I always leave my drum lesson in a better mood than when I went in. I'm so glad that I followed my dream to learn to play the drums and very glad that I came across Kasey who has helped to make my dream come true!
Additional Information About Kasey
I run a purpose-built drum kit teaching studio in Belfast.

I use two kits, one for the student and one for me. This is great for teaching and saves a lot of getting up and down time. We play side by side facing the same direction. This promotes better communication and enables demonstrations to be easily imitated. We do not face a wall, but rather play out to the room as in a gig or performance.

Low volume acoustic drums and cymbals are used to ensure total hearing protection. No electronic kits and no ear plugs or ear defenders required. Slow down apps are used to learn songs at a relaxed tempo.

I specialise in putting students through graded examinations, as well as GCSE, A Level preparations, and university auditions. I also teach for hobby and leisure.

I teach in blocks of 5 lessons once a week for £80.00. You may continue on for as long as you wish. I am happy to do a stand alone taster session (£16.00 for 30 minutes) for you to decide if you'd like to continue.

Catering for all ages, styles, abilities and needs.

Ample street parking directly in front and bicycle friendly. Bus route 4E stops right in front.

Friendly and encouraging lessons!

Supported by the Arts Council of Northern Ireland.

Endorsed by the District Drum Company, USA.
Things to Check Before Choosing
Do they seem reliable?
Are their teaching fees expensive?
What qualifications do they have?
Does their social media and web address match their profile information?
Can they prove their DBS check?